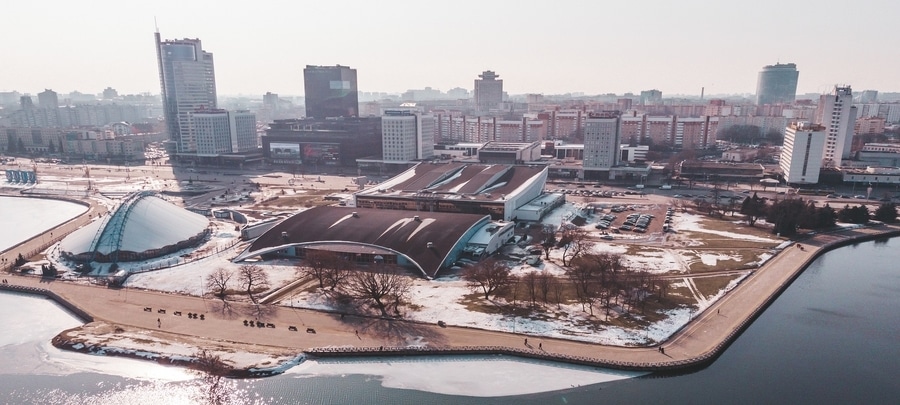 Belarus – Wine Importers and Wine Import Trends in 20 21

With a population of 9.4 million, Belarus stands as a commercial center due to its advantageous location, which allows companies to develop partnerships with strategic investors from the highly developed markets of the EU and CIS countries. In recent years, Belarus has built a reputation for being an attractive business destination through continuous reforms to conform to international standards. Companies interested in the Eurasian region have great opportunities in Belarus, where they can benefit from modern infrastructure, highly skilled human resources, as well as competitive investment and a tax climate, adjusted to each of the six free economic zones of the country.
Drink culture
The culture and preference for drinking varies by country or region between wine, beer and spirits. Located in the eastern part of Europe, Belarusians like strong alcoholic beverages based on vodka, but as in many countries traditionally integrated into the spirit drink, beer, the most popular alcoholic beverage in the world, is also a complementary option. The popularity of beer can be attributed to the low cost of domestic production and increased consumption by the very young.
However, the tradition does not necessarily reflect only current drinking habits. Wine, brandy or champagne are also popular among Belarusians today. In the past, wine consumption was not common due to the unfavorable climate to supply sufficient volume of grapes for the wine industry, while growing grapes was a sign of wealth. Today, most wines are imported from countries such as Moldova, the largest wine supplier, followed by France, Spain, Germany or Ukraine, at import prices that vary depending on the country of origin.
Consumer preference
It is important to note that alcohol consumption patterns differ from urban to rural Belarus. Alcohol consumption is most intense in Minsk and the surrounding areas, but dangerous alcohol consumption remains a major problem in rural areas. With regard to beverage preference, both men and women choose vodka, beer, fruit wine, fortified fruit wine and dry wine, however, men are heavier consumers than women. In terms of balance between price and quality, Belarusians prefer lower and affordable prices to high quality, reflecting their desire for value for money.
Healthy trend and premiumization of western influence
Although Belarus is still a heavy drinking country, recent trends show a shift towards the Mediterranean preference for wine consumption. This recent positive shift towards wine, a healthier alternative to alcoholic beverages, shows Belarusians' desire for a healthier lifestyle and a refined and diverse taste. Furthermore, recent economic development in Belarus, along with Western and global trends, has pushed the middle class to become more interested in a sophisticated drinking culture, exploring alcoholic beverages outside the borders of their country.
Market problems
Alcohol policy
Alcohol-induced mortality and other alcohol-related problems could be observed more in the eastern part of Europe, where consumption increased rapidly after the disintegration of the Union of Soviet Socialist Republics. Despite numerous government regulations to control the problem, in 2010 Belarus reached the first position of the most drinking countries in the world, with an average of 17.5 liters of alcohol per year, compared to world consumption levels around 6.5 liters. In recent years, alcohol consumption has been declining as the government has tried to combat the alcoholization of Belarus through additional regulations and penalties for dangerous alcohol consumption and restrictions on sales and advertising.
Producers looking to enter the Belarusian market will face a competitive landscape in terms of alcohol prices, as the country has more affordable prices than neighboring countries, as a result of failed measures to increase taxes on alcohol. Furthermore, exporters are also hampered by heavy bureaucracy and import prices imposed by the government and regulated through state-owned companies.
Homemade drinks and illegal contraband
Producers interested in exporting wine to Belarus should also take into account the risk of high availability of homemade alcoholic beverages, which, although more harmful to health due to their poorer quality than commercial beverages, are still consumed in many rural zones. Among these homemade drinks, the most popular include homemade wine, samogon, or substitute alcohols, but fake vodka was also reported to be bought on the black market.
Find and deal with wine importers in Belarus
Producers looking for success in the country need to find the right Belarusian wine importers and distributors, and have great business opportunities and cross-border traffic with neighboring countries, as the Belarusian market is made up of several pan-Baltic companies.
Belarusian wine importers:
Belvingrupp
Address: St. Nakhimova, 20, Building 402 Minsk
Phone: +375 17388-12-05
Website: bvgroup.by
Garsia Joint Lcc
Address: Platonova Str., 34-20 Minsk, Minsk
Phone: +375 17388-12-03
Website: garsia.by
Belkoopvneshtorg Belkoopsoyuz
Address: Ul. Babushkina, 62, Room 215 Minsk
Phone: +375 17367-90-51
Website: bkvt.by
---
Bielorrusia – Importadores de vino y tendencias de importación de vino en 20214 min de lectura
Con una población de 9,4 millones de habitantes, Bielorrusia se erige como un centro comercial debido a su ubicación ventajosa, que permite a las empresas desarrollar asociaciones con inversores estratégicos de los mercados altamente desarrollados de la UE y los países de la CEI. En los últimos años, Bielorrusia se ha ganado la reputación de ser un destino comercial atractivo mediante reformas continuas para ajustarse a los estándares internacionales. Las empresas interesadas en la región euroasiática tienen grandes oportunidades en Bielorrusia, donde pueden beneficiarse de una infraestructura moderna, recursos humanos altamente calificados, así como una inversión competitiva y un clima fiscal, ajustado a cada una de las seis zonas económicas libres del país.
Beber cultura
La cultura y preferencia por beber varía según el país o la región entre vino, cerveza y licores. Situados en la parte oriental de Europa, a los bielorrusos les gustan las bebidas alcohólicas fuertes a base de vodka, pero como en muchos países tradicionalmente integrados en la bebida espirituosa, la cerveza, la bebida alcohólica más popular en todo el mundo, también es una opción complementaria. La popularidad de la cerveza se puede atribuir al bajo costo de producción nacional y al aumento del consumo por parte de los más jóvenes.
Sin embargo, la tradición no refleja necesariamente solo los hábitos actuales de bebida. El vino, el brandy o el champán también son populares entre los bielorrusos en la actualidad. En el pasado, el consumo de vino no era común debido a que el clima es desfavorable para suministrar suficiente volumen de uva para la industria del vino, mientras que cultivar uvas era un signo de riqueza. Hoy en día, la mayoría de los vinos se importan de países como Moldavia, el mayor proveedor de vino, seguido de Francia, España, Alemania o Ucrania, a precios de importación que varían según el país de origen.
Preferencia de los consumidores
Es importante señalar que los patrones de consumo de alcohol difieren de la Bielorrusia urbana a la rural. El consumo de alcohol es más intenso en Minsk y las áreas circundantes, pero el consumo peligroso de alcohol sigue siendo un problema importante en las áreas rurales. Con respecto a la preferencia de bebidas, tanto hombres como mujeres eligen vodka, cerveza, vino de frutas, vino de frutas fortificado y vino seco, sin embargo, los hombres son consumidores más pesados ​​que las mujeres. En términos de equilibrio entre precio y calidad, los bielorrusos prefieren precios más bajos y asequibles a la alta calidad, lo que refleja su deseo de obtener una buena relación calidad-precio.
Tendencia saludable y premiumización de la influencia occidental
Aunque Bielorrusia sigue siendo un país que bebe mucho alcohol, las tendencias recientes muestran un cambio hacia la preferencia mediterránea del consumo de vino. Este reciente cambio positivo hacia el vino, una alternativa más saludable a las bebidas alcohólicas, muestra el deseo de los bielorrusos hacia un estilo de vida más saludable y un sabor refinado y diverso. Además, el desarrollo económico reciente en Bielorrusia, junto con las tendencias occidentales y mundiales, ha empujado a la clase media a interesarse más en una cultura de bebida sofisticada, al explorar las bebidas alcohólicas fuera de las fronteras de su país.
Problemas de mercado
La política del alcohol
La mortalidad inducida por el alcohol y otros problemas relacionados con el alcohol se pudieron observar más en la parte oriental de Europa, donde el consumo aumentó rápidamente después de la desintegración de la Unión de Repúblicas Socialistas Soviéticas. A pesar de las numerosas regulaciones gubernamentales para controlar el problema, en 2010 Bielorrusia alcanzó la primera posición de los países más bebedores del mundo, con un promedio de 17,5 litros de alcohol al año, en comparación con los niveles de consumo mundial de alrededor de 6,5 litros. En los últimos años, el consumo de alcohol ha ido disminuyendo a medida que el gobierno ha intentado combatir la alcoholización de Bielorrusia mediante regulaciones y sanciones adicionales por el consumo peligroso de alcohol y restricciones en las ventas y la publicidad.
Los productores que busquen ingresar al mercado bielorruso deberán enfrentar un panorama competitivo en cuanto a los precios del alcohol, ya que el país tiene precios más asequibles que los países vecinos, como resultado de las fallidas medidas para aumentar los impuestos al alcohol. Además, los exportadores también se ven obstaculizados por la pesada burocracia y las cotizaciones de importación impuestas por el gobierno y reguladas a través de empresas estatales.
Bebidas caseras y contrabando ilegal
Los productores interesados ​​en exportar vino a Bielorrusia también deben tener en cuenta el riesgo de la alta disponibilidad de bebidas alcohólicas caseras, que, aunque son más perjudiciales para la salud debido a su peor calidad que las bebidas comerciales, todavía se consumen en muchas zonas rurales. Entre estas bebidas caseras, las más populares incluyen el vino casero, el samogon o los alcoholes sustitutos, pero también se informó que el vodka falso se compraba en el mercado negro.
Encontrar y tratar con importadores de vino en Bielorrusia
Los productores que buscan el éxito en el país necesitan encontrar los importadores y distribuidores de vino adecuados de Bielorrusia, y tienen grandes oportunidades de negocios y tráfico transfronterizo con los países vecinos, ya que el mercado bielorruso está formado por varias empresas pan-bálticas.
Importadores de vino de Bielorrusia:
Belvingrupp
Dirección : St. Nakhimova, 20, Building 402 Minsk
Teléfono : +375 17388-12-05
Sitio web : bvgroup.by
Garsia Joint Lcc
Dirección : Platonova Str., 34-20 Minsk, Minsk
Teléfono : +375 17388-12-03
Sitio web : garsia.by
Belkoopvneshtorg Belkoopsoyuz
Dirección : Ul. Babushkina, 62, Room 215 Minsk
Teléfono : +375 17367-90-51
Sitio web : bkvt.by
font: bestwineimporters